Metal Roof Repair
San Antonio TX

Metal Roof Repair San Antonio
Metal roofing is a great material for homes and buildings, especially in the San Antonio area. It saves on energy costs and looks nice too. However, just like any other type of roofing, it will eventually need to be repaired. Here are some tips for fixing metal roofs that have started to leak or become damaged.
Common Metal Roof Problems
There are several common problems with metal roofing that can be easily fixed. Even if you have never worked with metal roofs before, these projects are not difficult to complete yourself.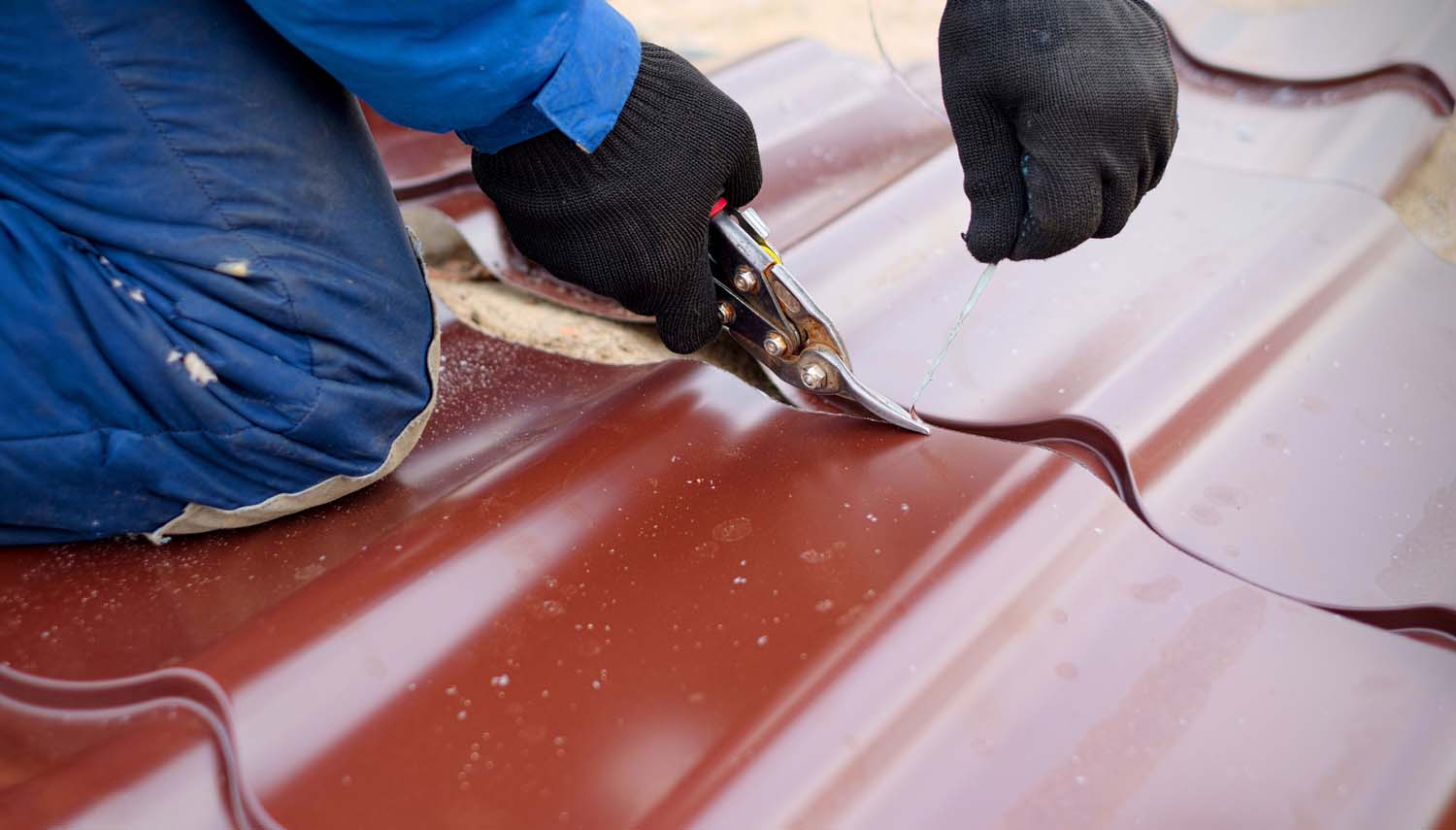 Leaks are one of the most common problems with metal roofs. These roofs tend to develop leaks where fasteners, seams, or other connections have become corroded or detached.
If you see water stains on your ceiling inside the house, you should check your roof for areas allowing water through. You may be able to spot these stains during the day when the sun is shining on your roof. If you do not see any stains, inspect your roof after windy days or storms to see if there are areas of blowing rain that might be causing leaks inside your home.
Leaks caused by corroded metal flashing or damaged seams often cause water to run down the sides of the walls and drip from underneath the roof's eaves. These leaks can quickly fill up gutters and spouts, so they must be cleared more often. If you find that more water is dripping from your gutters than usual, you should look into having some repairs to your roof or flashing.
Another problem that homeowners report with metal roofs is that they corrode in certain areas. If you have ever touched your roof, it probably felt cold to the touch because of its steel shingles. This means that water should not be able to run down the sides of your walls when it gets on top of your roof.
However, if certain areas of your roof are significantly warmer than other places, you may have pinpoints of rust forming on these shingles. These can be spotted if you get up onto your roof and look down at the sides of the walls. You should also check for any rust spots or stains near fasteners or seams where water might run down the side of the roof.
One other problem that homeowners should be aware of when repairing metal roofs is flashing failure. Like any other part of a roof, metal flashing will eventually need to be replaced if it becomes corroded or torn. Flashing is the material that connects your wallboard siding to the roof and directs water around your exterior walls. It also allows for expansion and contraction in different temperatures without cracking the paint along the walls.
Metal flashing can fail in several ways, but a couple of the most common ways that metal flashing fails is becoming detached from wallboard or detached from fasteners. These can be easily repaired by reattaching the metal flashing to the exterior wall with roofing nails. You may also want to try using roofing cement or an adhesive sealant on your walls and around your flashings to seal off any seams and lock down your metal flashing.
If you find that your flashing is detached from the wallboard or fasteners, then this may indicate problems with your roof's structure. This can be caused by rotting rafters or beams, which will necessitate replacing entire sections of your roof. If you spot any water stains on the ceiling inside your house, then chances are there is some rotting wood on your roof.
Metal Roof Repairs & Porches
If your roof is constructed with metal shingles or panels, then you may have a problem with leaks around your porch area. This is because the flashing moves differently than any other part of your house and can be more difficult to repair. If your porch roof is made of metal, then you may find that the fasteners holding it onto the house begin to corrode or come loose during heavy storms or windy days. This causes leaks inside the walls and under the porch roof, which can cause water damage inside your house. If you are trying to seal off seams along this area, you should use an adhesive caulk or another sealant.
Metal Roof Patching Problems
Metal roofs can also get holes, dents, and other damage that might need some patching. If you have a thin metal roof with a smooth surface, it is pretty easy to patch small areas that need work. However, if you have a corrugated steel roof, the process of repairing these types of roofs is slightly more complicated.
These types of metal roofs often have ridges that can trap moisture and cause corrosion under the surface. This will make repairs a bit more difficult to do as you will need to seal off any gaps between sheets before filling in small holes.
Metal Roofing Panels Missing
Metal roofs are just like any other type of roofing material in that they will eventually need to be replaced. This means that if you have an old metal roof on your house, it is likely that over time you will start to see sections where the panels are damaged or missing. These areas often go unnoticed for a long time because the exposed area may be small, and the other panels may overlap to cover the missing section.
You should inspect your metal roof regularly, perhaps every time you climb a ladder around your house. If you do not see any problems during these regular inspections, you should take a more thorough look at least once a year to ensure that no issues are developing. If you find missing or damaged panels, then you will need to have them replaced.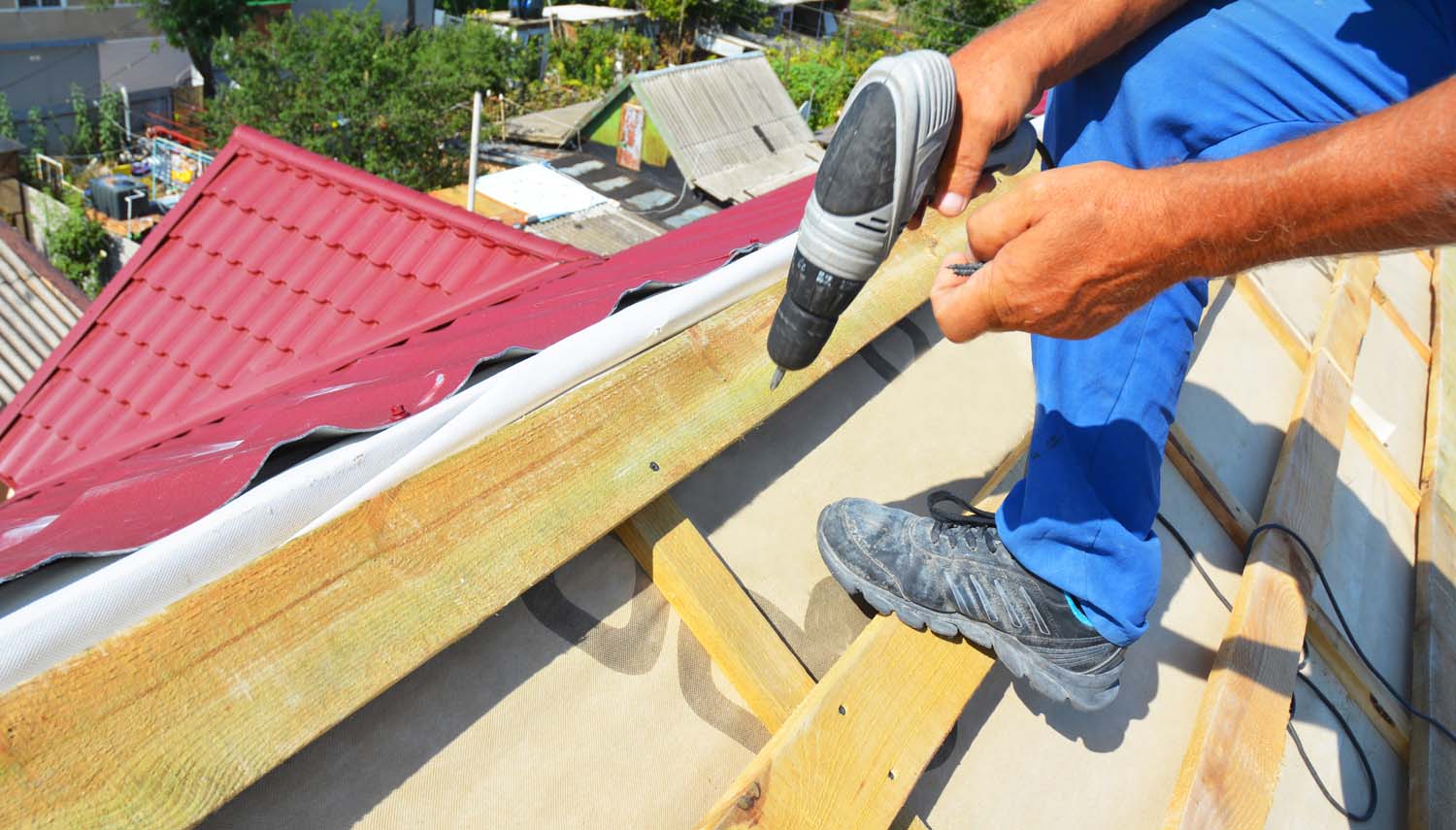 How Roofing Contractors Repair Metal Roofs in San Amtonio
When repairing metal roofs, contractors start by removing damaged or corroded metal. They will cut away the damaged area and pull out any loose screws or nails. Once they have removed all of these items, there are two main ways that contractors choose to patch in new pieces of flashing or metal.
The first way they might use is by using a corrosion-resistant flashing material to seal up seams around the edges of the hole. If this method is used, it is important to ensure that all of the seams are sealed well so moisture cannot get through.
The alternative method that roofing contractors can use when repairing metal roofs is welding metal sheets over the hole. This prevents water from getting into the gap and provides a permanent solution to small holes in steel roofs. If you have a corrugated steel roof, then you will need to get a professional opinion on the best type of patching material to use.
Once this connection has been repaired, roofing contractors can move on to filling in missing sections of the metal roof. If you have a smooth-surfaced metal roof, this may be as simple as using a rubber adhesive to fill in small gaps with no panels. However, if your roof has ridges on it, then larger sheets of replacement steel will need to be cut and bent into place.
They will then replace any flashing, seams, vents, etc., that are also in bad shape. After these items have been replaced, you might want to inspect the rest of your roof to ensure no other areas need work done. It is good to keep track of any repairs made because this information can help you negotiate a better price for a new metal roof when it comes time for a replacement.
They will also spot any loose or missing panels. This part of the repair process may not always be necessary, but it can provide extra weatherproofing against leaks. A new coat of paint may also be applied for an attractive finish.
Next, they install new fasteners and sealants to prevent leaks from occurring again. If the contractor uses flashing to patch up your metal roof, they may also paint over these areas so they blend in better with the rest of the roof.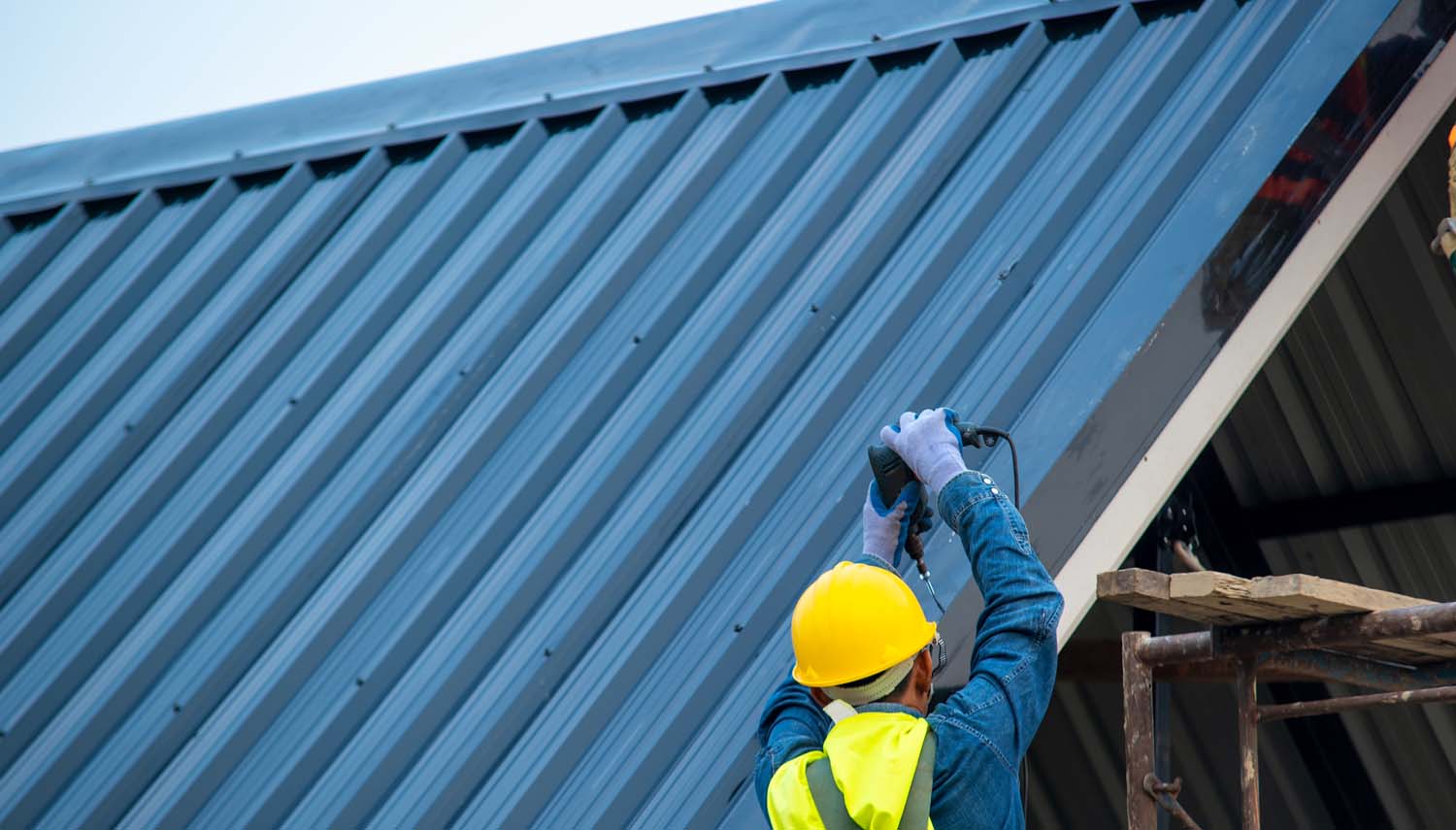 How Much Does it Cost for Metal Roof Repair?
The cost of repairing a metal roof varies on several different factors. If you have a smooth-surfaced roof with no ridges, then the repair may only be around $200 if all they need to do is fill in small holes and add glue to some seams.
If you have an old corrugated steel roof that needs to be patched in multiple places, the price may be $1500.
You also need to factor in the cost of removing and disposing of old metal panels. Sometimes contractors use this as their "danger pay" because it can be very dangerous if one of these heavy panels falls on someone.
If your roof is made of corrugated panels, then removing and disposing of this type of material can be very costly because these types of roofs are often very large. If you have a small roof, there might be a large fee for removing and disposing of old panels.
In addition to the price of metal roof repair in your area, you should also factor in any additional costs that may come with these repairs. If you need small sections replaced on your corrugated steel roof, then it might only take a couple of workers just one or two days to do the job.
However, if you need repairs on all sides of your metal roof and the materials are heavy, then it may take several experienced workers several days to complete the project. This also will depend on how much work needs to be done and where the leak is located.
You should also factor in the size and location of the damage. Holes that span across multiple panels or large sections of missing material will cost more to repair. Repairs located on a very high or steep part of your roof may also increase the price because it requires special safety equipment and techniques.
The Qualities of the Best Metal Roof Repair in San Antonio
The best metal roof repair work will be completed professionally by an experienced roofer. These workers should have the equipment, safety gear, and skills necessary to complete any job. They should also have experience working on your type of metal roofing material.
It is also safe and neat. The crew should clean up the worksite every day after completing their repairs. They should also have insurance to cover medical expenses and any damage that may occur while they are working on your roof.
The repaired roof should be secure and should not leak after it is finished. There should be no exposed fasteners or sharp edges that pose a safety hazard to anyone walking on the roof. If you find any of these problems with the work after it is finished, they should be corrected at no extra charge.
A contractor who specializes in one particular type of metal roof is usually more knowledgeable about that specific material than someone who repairs roofs as a side job. You may also want to check the references of any roofing company you are considering working with. This can help you find someone who has experience repairing your particular metal roof.
The best metal roof repair contractors will follow standard procedures and use high-quality materials. They should also ensure that their crew has the equipment and the skills necessary to complete any roofing project.
Since they will be handling your roof, you should ensure that they have extensive experience and a solid reputation in the construction industry. They need to prove that they can handle all types of obstacles like valleys and chimneys on roofs and taller buildings like commercial properties.
The contractor should also be insured and bonded, so you will not be held responsible for any accidents on the job site. They should also carry workers' compensation insurance to protect their employees in case they are injured on the job. Reputable contractors will be able to show you photos of previous roofing projects or provide references from previous customers.
Don't wait until your metal roof is leaking or buckling before you find a reliable contractor. There are many good, qualified contractors to choose from who can help take care of any problem with your metal roofing system.
Contact the Best San Antonio Metal Roof Repair Company
Sed risus nisi, eleifend eget elementum egestas, imperdiet sed mauris. Aenean ut tristique arcu, sit amet tempus nisl. Nullam sagittis mattis ipsum, non viverra arcu. Vivamus blandit metus eu scelerisque maximus. Aenean erat lacus, eleifend quis dignissim ut, lacinia bibendum orci. Maecenas at dolor diam. Quisque convallis magna quam, at euismod lorem placerat quis. Fusce venenatis sit amet purus eu ornare. Aliquam maximus efficitur erat, vitae tempor erat scelerisque id.
Learn more about our metal roof repair and other services that we provide, by clicking here. 
Quality workmanship done right the first time
Address
415 Balcones Heights Rd.
San Antonio, TX 78201
Email
Contact@SkyRoofingConstructiontx.com