Gutter Cleaning
San Antonio TX

Gutter Cleaning San Antonio
Sky Roofing Construction & Remodeling has seen firsthand what can happen when property owners fail to perform gutter cleaning services. Sky offers roof cleaning and gutter cleaning in San Antonio as a top tier service, because we work hard to install beautiful high quality roofing and siding and we want your investment to last. Gutter cleaning and repair must happen regularly to keep roofing, siding, ceilings, and your foundation in excellent condition. That is why Sky has a team trained in roof gutter cleaning for every kind of roof and gutter system.
Do I Need Gutter Cleaning?
There is one simple task, that if left undone, can cause the most extensive damage to a home or property. Rain gutter cleaning and maintenance seems simple, like something you can handle as a DIY project, except, too many property owners just don't get around to it. And, many don't know how to do it correctly, or look for signs of potential trouble.
How do you clean gutters? Based on the style of roof and the materials used, it might be better to hire a professional team from a short list of local gutter cleaning companies. A trained gutter cleaner will know how to diagnose blockages, assess debris on the roof, and identify problems early. They can spot early stages of mold, rust, or perhaps a problem in the system's design that homeowners can't see. Trained gutter cleaning and repair teams can keep a small problem from becoming bigger.
Your home's gutter system, of course, is designed to channel the flow of rainwater off the roofline, onto the ground and away from the structure. If you don't keep this carefully designed system in top shape by hiring a roof and gutter cleaning team, you risk causing damage to not only the roof and gutter itself, but also your siding, ceilings and walls, the foundation and landscaping. Why risk it?
When debris builds up, it leads to overflowing gutters that don't drain away from the building. It can also cause gutters to sag, mold to grow inside the gutter, or worse flooding in an attic or basement. Neglecting to do regular gutter maintenance leads to far costlier problems down the line, so hiring a gutter cleaning service is a bargain in comparison.
How Does Gutter Cleaning Work for San Antonio Homeowners?
Gutter cleaning is not as simple as climbing a ladder and pulling out a few sticks and leaves. First, it's important to walk the roof noting any signs of algae or mold, or piles of debris. This indicates where there are high levels of moisture or trees positioned to regularly drop branches and leaves, areas that require more frequent attention. The average gutter cleaning cost should include this kind of attention to detail.
Patterns indicate where rivulets of water are collecting and streaming, either from the roof to the gutter, or from the gutter to the ground. Experts can "read" your roof and gutters, and below the downspouts, and use the information to identify and repair trouble spots.
Once a roof gutter cleaning expert has seen the roof, they can begin cleaning and repairing trouble spots. This involves more than pulling out leaves and dirt, it also means scraping clean any mold, which grows quickly. They will also check all of the gutter seams, and connections to downspouts, ensuring that there is a tight seal. Cleaning usually begins at the downspout, where most of the clutter seems to collect. They will also test the downspout to make sure that it is not clogged.
A lot of homeowners will spray a hose into their gutter system, thinking this will flush it out, and they are done. This can work on a simple system, but it is critical to not spray any water up under shingles. And of course, the last thing you need is to create pools of water on a flat roof. Professionals use special tools for digging out debris, such as gutter scoops and special hoses and attachments to flush the system clean. Clogs in a downspout can be very difficult to discover and remove, so professionals are a great investment. They can assess the amount and flow of water, and use a special downspout snake to ensure it's completely clean.
And finally, a professional gutter cleaning team can determine if what seems like a gutter blockage is actually an installation issue. Often, homeowners think their gutters are overflowing due to a clog, when in fact gutters are improperly installed and not catching and channeling the water correctly. Professionals will get on it right away.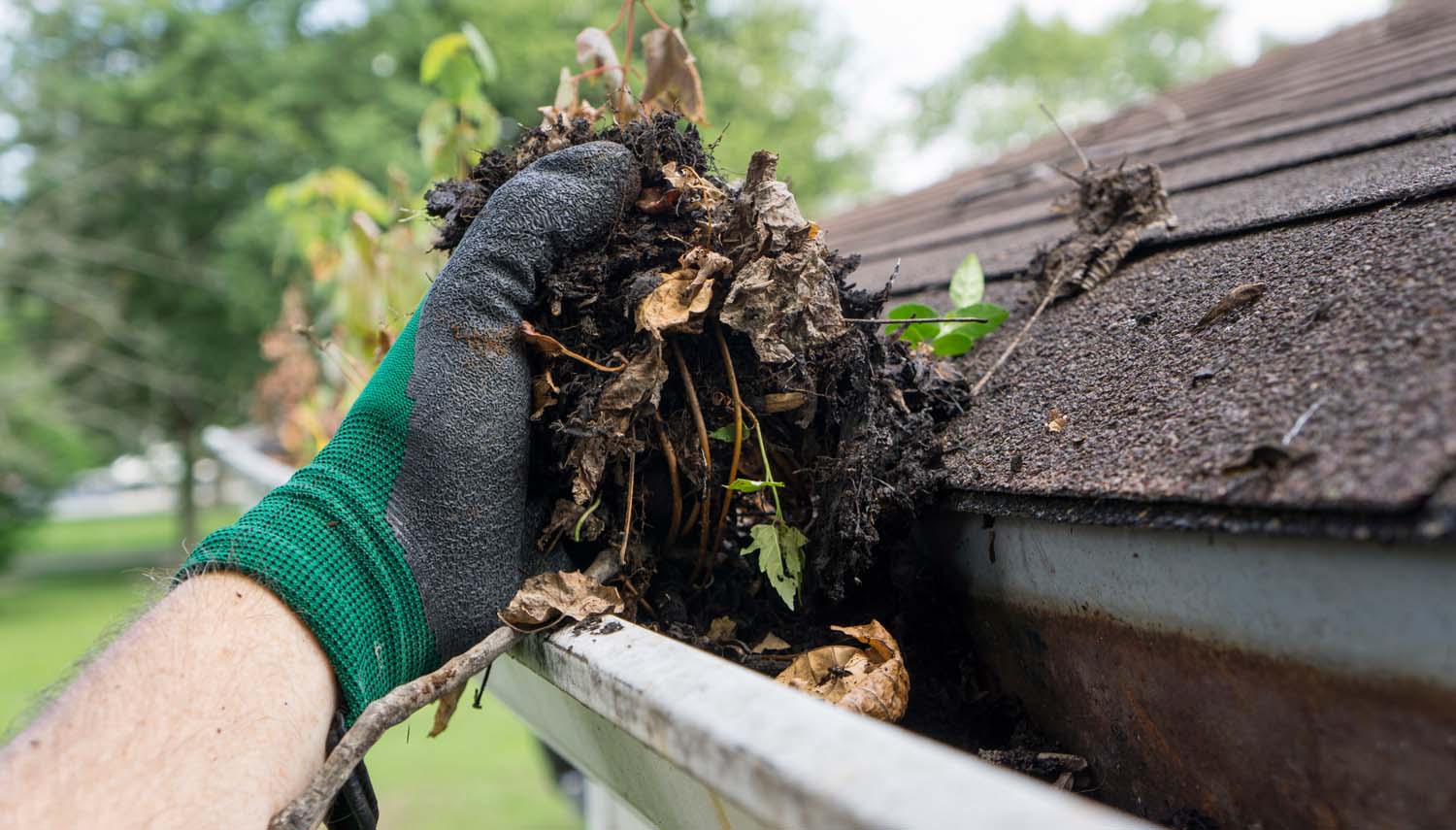 What Does San Antonio Gutter Cleaning Include?
When searching for a gutter cleaner near me, start by making a short list of local companies. It's best to know the company is close by, and ready for quick repairs when emergencies strike, like storm damage. As a regular customer and neighbor you're more likely to be first on the list when disaster strikes. Also, a company nearby is not going to do a shoddy job or overcharge when they know you can tell other people in the community about your experience. So, we recommend going local.
What services will a gutter cleaning company include? If their idea of a professional job is to get on a short ladder and pull stuff out of the gutter, you might as well hire a handyman. True gutter cleaning services, especially when handled by a gutter and roofing company, will do far more. When pulling out debris, if they find a piece of shingle, they will walk the roof and replace the broken shingle. When inspecting gutters, they may spot an area where water has been pooling in the gutter, which indicates the slope of the gutter is off. This is simple to correct but a regular handyman won't know how to do it.
A professional gutter cleaning company will also tighten all brackets and inspect all of the seams. Gutter screens and covers are often installed by gutter companies who sell owners on the idea that it will keep debris out. This is only partially true. Debris and dirt can still wash its way into gutters, so cleaning this kind of system should include removing the covers or screens, cleaning and checking everything, and then reinstalling them.
Roofing companies who send out gutter cleaning teams are probably the wisest to hire. They are also experienced roofers, able to do small repairs on the spot and identify gutter issues that are causing roof or siding damage. This kind of team will help you keep your roof and gutters in tip top shape, and protect your property for a long time to come.
Need Gutter Cleaning San Antonio? 
Hiring the right gutter cleaning company involves more than a quick online search. Ask people for referrals and research what full service companies offer. Call and interview them about their experience with the roof and gutter system you have. A gutter cleaning cost should include a truck fully outfitted; extra long ladders for getting on the roof, parts (like brackets or shingles) for repair, and specialized cleaning tools. Inquire about a discount for signing on to a yearly maintenance contract.
Sky Roofing Construction and Remodeling has been serving the San Antonio area for over twenty years with excellent gutter cleaning and repair. Call (210) 942 9797.
Read more about gutter cleaning and the other services we provide here.
Quality workmanship done right the first time
Address
415 Balcones Heights Rd.
San Antonio, TX 78201
Email
Contact@SkyRoofingConstructiontx.com