Flooring Contractor
San Antonio

Flooring Contractor San Antonio
Sky Roofing Construction & Remodeling is an expert hardwood flooring contractor in San Antonio, TX that can transform your home in days. Install a beautiful hardwood floor, or request their expert laminate flooring installation service. Flooring installation cost doesn't have to be through the roof! Sky has been serving San Antonio owners with expert flooring installation, removal and repair services for over 30 years.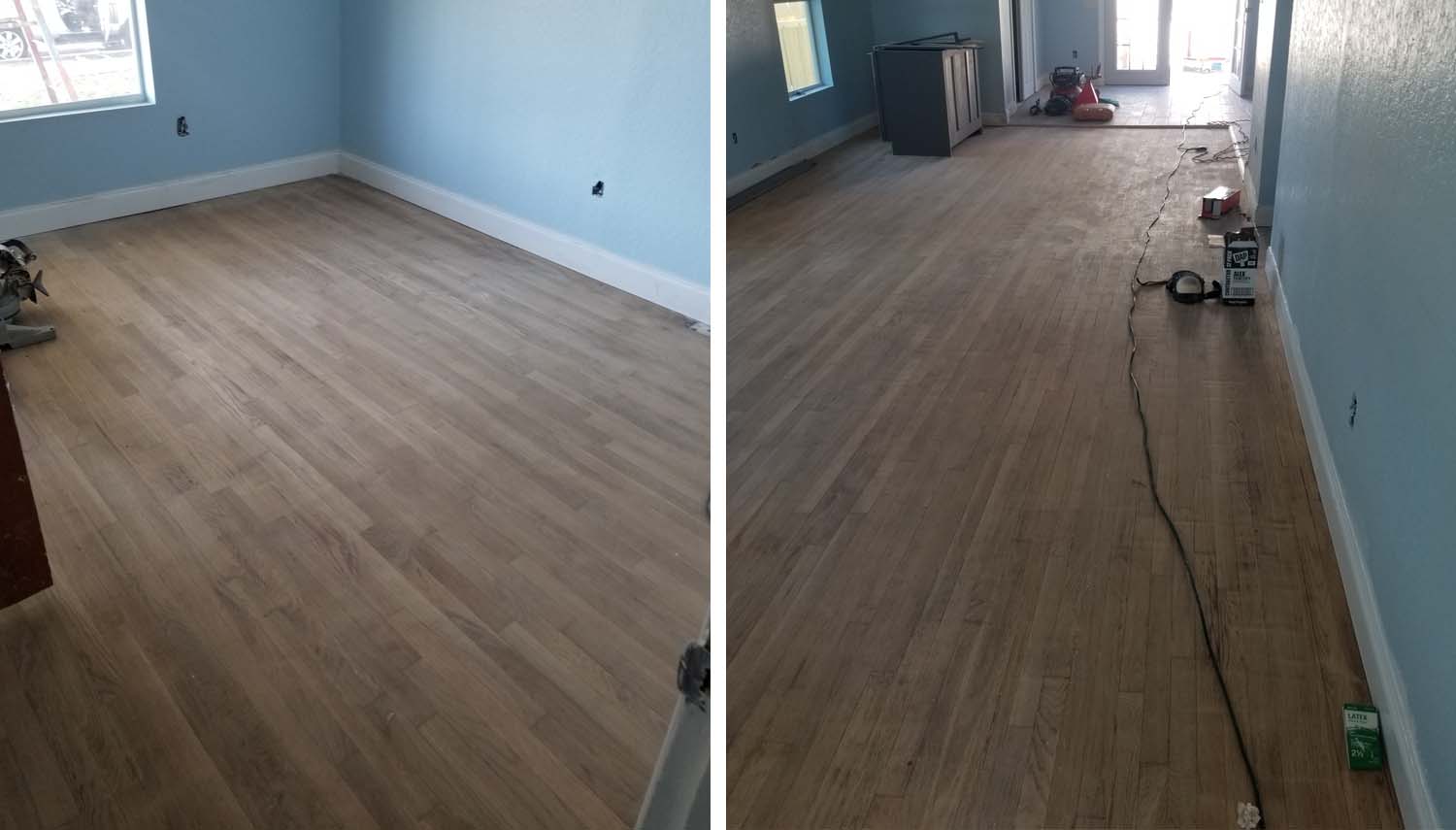 The Qualifications of the Best Flooring Contractors in San Antonio
A new floor is a great investment that can transform any space in a short time. So, how do you find the right flooring contractor?
Well first, look for a team that has experience with jobs similar to yours. DIY shows on television and home stores would have you believe that flooring installation is an easy weekend job. Instead, it's a very intricate job that requires a lot of skill and experience. For example, if the subflooring is old, or not level, serious problems can occur if that doesn't get fixed first. Can you handle that as a DIY project? If not, your fine hardwood floors will buckle, or your expensive stone or ceramic tile floor will crack. Ask yourself if your project is really a DIY job. If not, find a local flooring contractor with a good reputation.
The more experience the contractor has with all around construction, the more you can depend on them to help you make the right flooring choice. Traditional tongue and groove is perfect for some spaces, while other areas would look better and last longer if you install an engineered interlocking system. And, of course, quality workmanship is a must. You cannot hide mistakes or shortcuts. Wherever the floor meets walls, goes into corners, precision is key. The last thing you want is to invest in new floors and see flaws, gaps at the baseboard or buckling.
Cost is a factor, of course, but floors are not a place to skimp. Buy the highest quality flooring you can afford that will hold up well under the traffic you expect it to get. Ask candidates if they resource their materials locally. If there's a problem down the road, you don't want to be waiting for specialty planks from Brazil!
There are many flooring contractors, all of various sizes with different levels of experience. Follow a few simple rules and you will find the right flooring contractor for the job.
Flooring Contractor Services
What's the most important thing to consider when assessing flooring contractors when you need one for a home renovation project? Believe it or not, good communication is pretty key. You don't want a contractor that isn't honest and upfront about cost and schedule. There is nothing worse than being ghosted mid project and hearing nothing from them for weeks on end.
Another consideration is whether the flooring company has expertise in all types of flooring materials. Everything from hardwood flooring, to laminate flooring, to vinyl or linoleum require different skill sets and entirely different tools. Natural stone tile flooring and ceramic tile flooring require a certain kind of skill. Because it is common to have several different kinds of floors in your home, why not find a contractor that has experience in all kinds of flooring. That way, if there's carpet in the bedrooms and hallways, and porcelain tile flooring in the bathrooms, you're covered by one contractor.
Consider using a flooring contractor who is part of a larger renovation/construction company. This is not only the best way to get the most experience, it will mean you only have to deal with one schedule. There is nothing worse than turning your house upside down to get new floors installed, only to find out that the renovation contractor can't be on the job for another month!
If the flooring and renovation experts are part of the same team, there's only one schedule to contend with.
And finally, don't be afraid to ask for references and photos! Disreputable flooring people are out there. Call and speak to previous clients of the contractors you like the most. And, make sure the company really is local, because local is always better.
Flooring mistakes are expensive. But, choose a contractor carefully, and you'll end up with a team that exhibits quality workmanship and great customer service.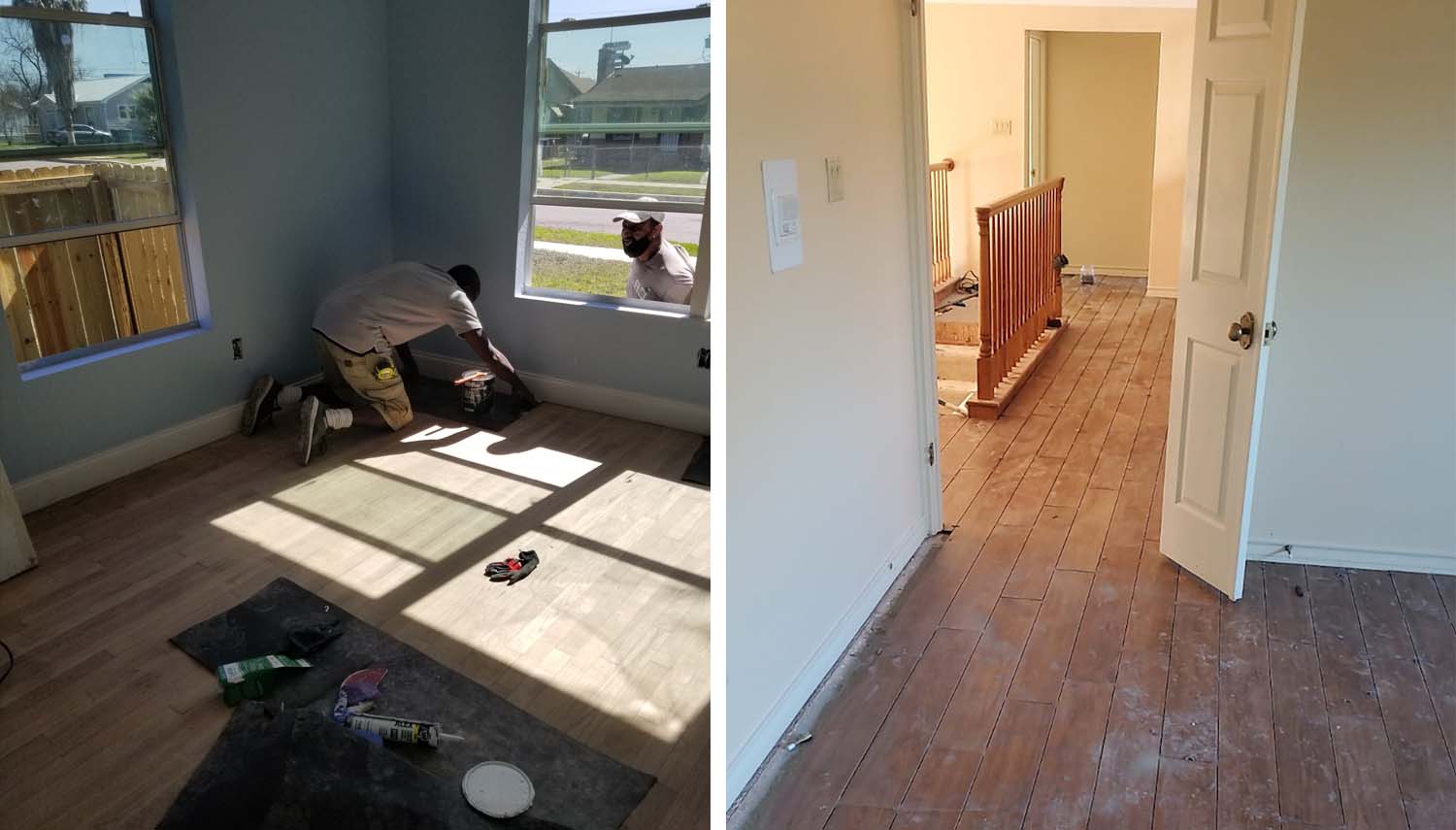 Flooring Contractor San Antonio: Choosing the Best One
A flooring installer and a residential flooring contractor are very different, but either one can make an excellent vendor, depending on the project you have in mind. A small company with only vinyl flooring installers may not know much about flooring installation cost for more complex solutions, like porcelain tile or hardwood. But, if you aren't planning any other kind of flooring installation, and you like the vinyl flooring installation cost, a small vinyl company can be a good option.
Big commercial office buildings or custom-built homes may need three or four different kinds of flooring in one project. If that's the case, use a flooring contractor that is part of a construction and remodeling group. They will have the extensive experience you need. Their roster probably includes laminate flooring installers, carpet installers, and craftspeople who know the ins and outs of laying in fine hardwood floors.
When shopping for a flooring contractor, think beyond your immediate needs. What if you experience flood damage or the house settles and the floors are affected? Extreme temperatures can cause floors to warp, or vinyl to bubble. Will the contractor you choose be around to fix any unexpected damage or help with maintenance?
Achieve the look of a whole new space by hiring the right flooring contractor, but keep in mind that subflooring, underlay, radiant heating systems, moisture proofing, high traffic solutions, and waterproofing and sealing for kitchens and bathrooms are just some of the things you want your future contractor to have experience with. Choose a local, reputable company that sources high quality materials-check their references, and get started on a whole new look!
Call Sky Roofing Construction & Remodeling Today
Nothing can change the look of a space more than high quality flooring throughout. Sky Roofing Construction & Remodeling is a certified flooring contractor, experienced in hardwood and laminate floors, tile and vinyl flooring and floor refinishing and repair. We've been serving the San Antonio area for over 30 years.
Commercial and residential property owners depend on Sky because our teams are professional and knowledgeable and experienced in every kind of flooring installation and floor renovation. Whether you need a floor removal, repair or installation, talk to the professionals at Sky. Call for advice and an estimate at (210) 942-9797.
Learn more about our flooring contractor and roofing services that we offer here.
Quality workmanship done right the first time
Address
415 Balcones Heights Rd.
San Antonio, TX 78201
Email
Contact@SkyRoofingConstructiontx.com