Metal Roof Installation
San Antonio TX

Metal Roof Installation San Antonio
Metal roof installation for homeowners in San Antonio is simple, requiring much less time and effort than traditional asphalt or shingle roofs. The metal roofing panels come in various widths, lengths, profiles (the way the edge of the panel is bent), weights, colors, coatings, and other features. One person can do the installation with basic skills using simple tools to fasten them to roof trusses with screws. This article will discuss everything you need to know about quality metal roof installation to decide if it's right for your next project.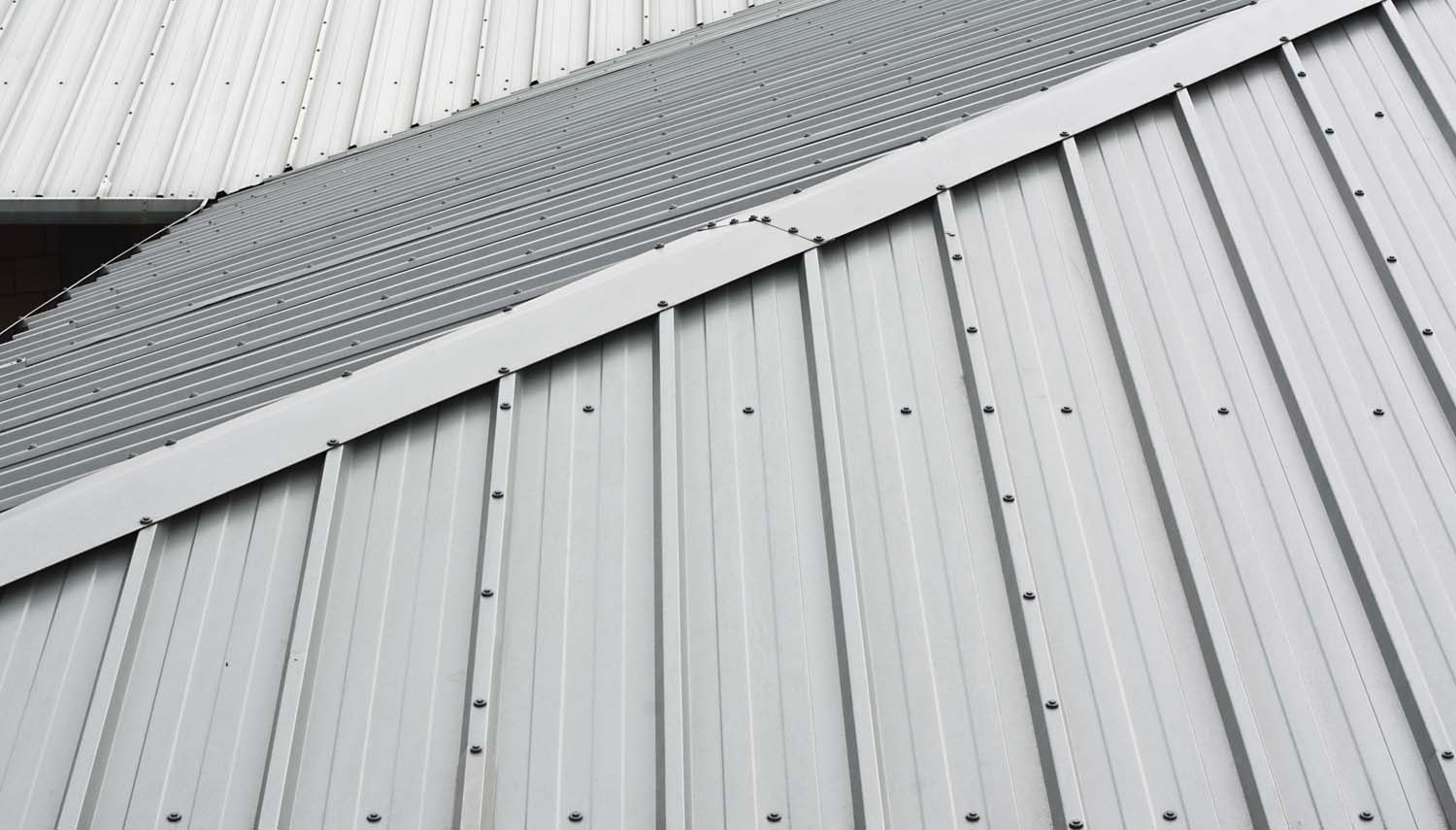 How Metal Roofs are Installed
Metal roofs are installed on the existing roof, saving time and money over tearing off an old roof. Installing a new metal roof can be done in one day by two people with basic skills. Removing an old roof is a more complicated process that requires hiring professionals to complete it within several days or weeks, depending on the size of the home.
Most metal roof installations in San Antonio come as pre-assembled panels covering the entire roof area and can be installed without cutting or shaping. However, some styles may require minor trimming to fill in around pipes and other obstacles. The panels are attached directly over your existing roof decking with screws, which allows them to expand and contract like the rest of the roofing surface with changes in temperature and weather.
Metal roofs can be installed on either standing-seam panels set in place or on nail-down panels attached over your existing shingles or sheathing. Standing seam is a shaped panel that interlocks together and does not require any nails to hold it in place, so it is a rustic look typically used with metal siding. Nail-down roofs are faster to install and easier to repair since there are no seams for water to leak through, so they are the most popular choice for putting on over an old roof that you want to preserve.
Metal Roof Installation San Antonio: Project Timeline
The time it takes to install a metal roof depends on the size of the building and how many obstacles are in the way. The panels can be installed quickly over an existing roof, so large buildings should only take a day or two with four people working together. Installing metal siding is quick as well, requiring just a few hours for each exterior wall.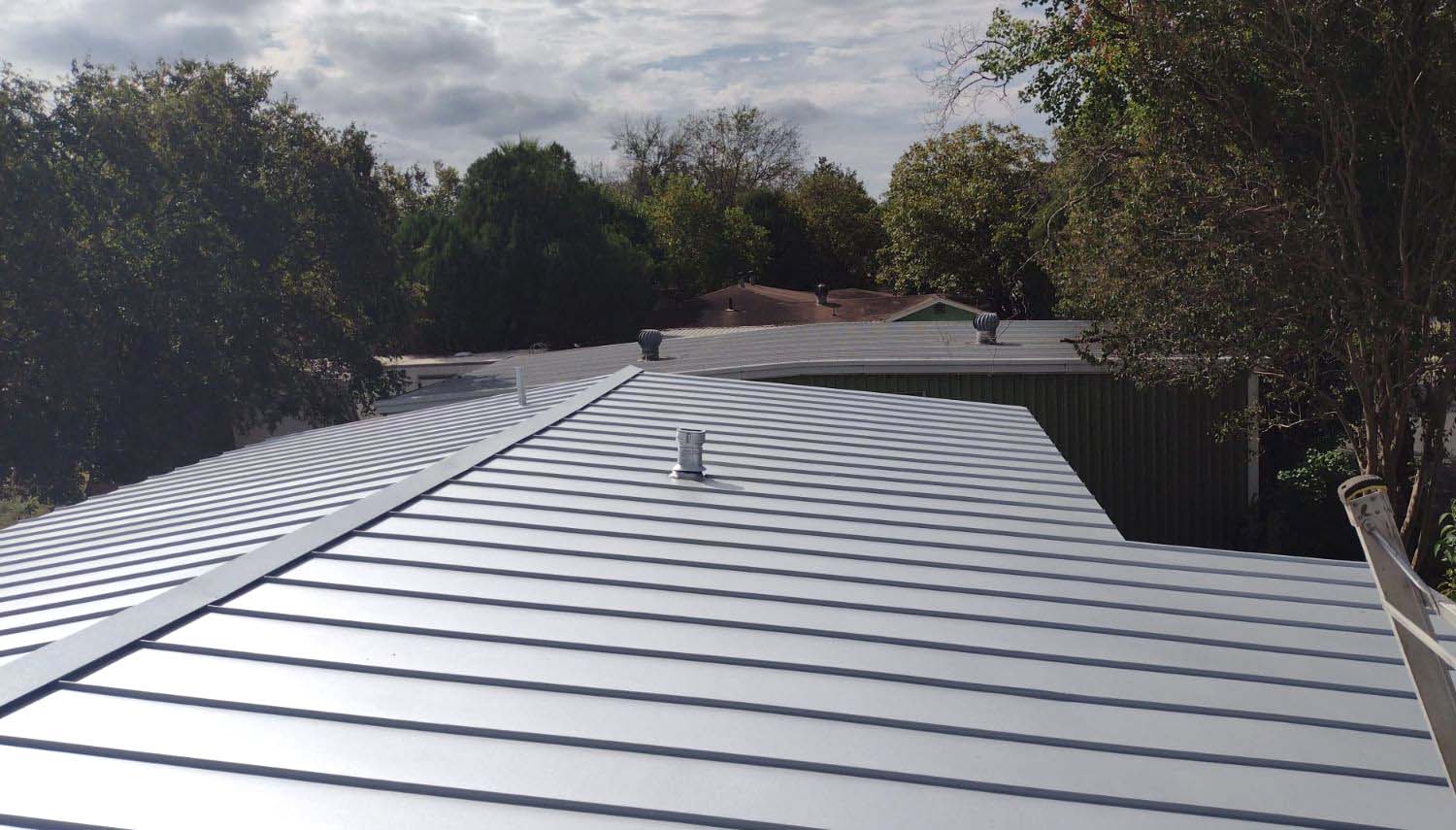 Before a metal roof installation, it's essential to make sure your deck is structurally sound and has no gaps or holes underneath. Flashing around chimneys, vents, skylights, and other parts of the roof needs to be replaced with new material that will keep water away from where you are installing the panels. The best metal roof installation companies replace or put on a new roof over the old one before installing the panels.
Contractors should also inspect your existing roof for loose shingles, cracks, and other signs of wear that may need to be repaired first. This is especially important if you plan to use a nail-down system since it won't be as watertight if your existing roof is not in good condition.
Before you begin:
1. Ensure the surface is clean and dry since even a small amount of debris can leave marks that cause rust spots on your new panels.
2. Cover plants with tarps to keep them out of the way during installation.
3. Remove all old roofing materials and nails to make your life easier during the project.
The metal panels come with a ridge vent at the top that can be left or covered with an aluminum mesh panel for extra protection from wind and rain. The best standing seam roofs have a layer of rubber along the bottom that protects them from moisture build-up if you plan to use the panels without the mesh.
Metal Roof Installation Components
There are four main components to the best metal roof installation process:
1. You have the panels themselves that fit together on top of your existing roof decking.
2. You have fasteners used to secure the panels in place.
3. Flashing material for waterproofing around vents, pipes, and other parts of your home where water can get through.
4. The ridge cap is installed to protect the panels from water buildup.
Installation time will be short and straightforward if you are putting on metal siding or any other style that comes with pre-assembled panels. If your home has a standing seam roof, it's more of a labor-intensive project since you will need to lift each panel into place. Either way, make sure to have a few helpers on hand to complete the job go faster and easier.
The same metal panels are used for both nail-down systems that attach over your existing roofing shingles and standing seam roofs that utilize interlocking pieces. The only difference is how you put them in place, so if your old roof is in good shape, you can put on an entirely new metal siding exterior using the same panels you just took off.
When installing the existing shingles, start with the drip edge and corner flashings before attaching each panel for waterproofing. If water gets behind the boards, it will cause leaks, so ensure everything is sealed well before putting your new roof on top. Once the nails are hammered in place, roll out the ridge cap and attach it to hold down each end of the panels.
Standing seam roofs use an interlocking system that will need to be fastened together at each joint where they meet up for a watertight seal. You can cut panels with snips to fit around your skylights and vents, but otherwise, the same installation steps apply here as well. Depending on which style you choose, the gap between panels needs to be sealed with a cap or mesh to protect it from wind and rain.
When installing over existing shingles, make sure to remove all nails that are below the new metal panels. It's also essential to remove any debris from your old roof before putting on the new one. Otherwise, you could end up with rust or oxidation spots where there used to be shingles left in place.
Once everything is cleaned up and fastened down, it should only be a few hours at most before you're ready to roll your new metal roof installation.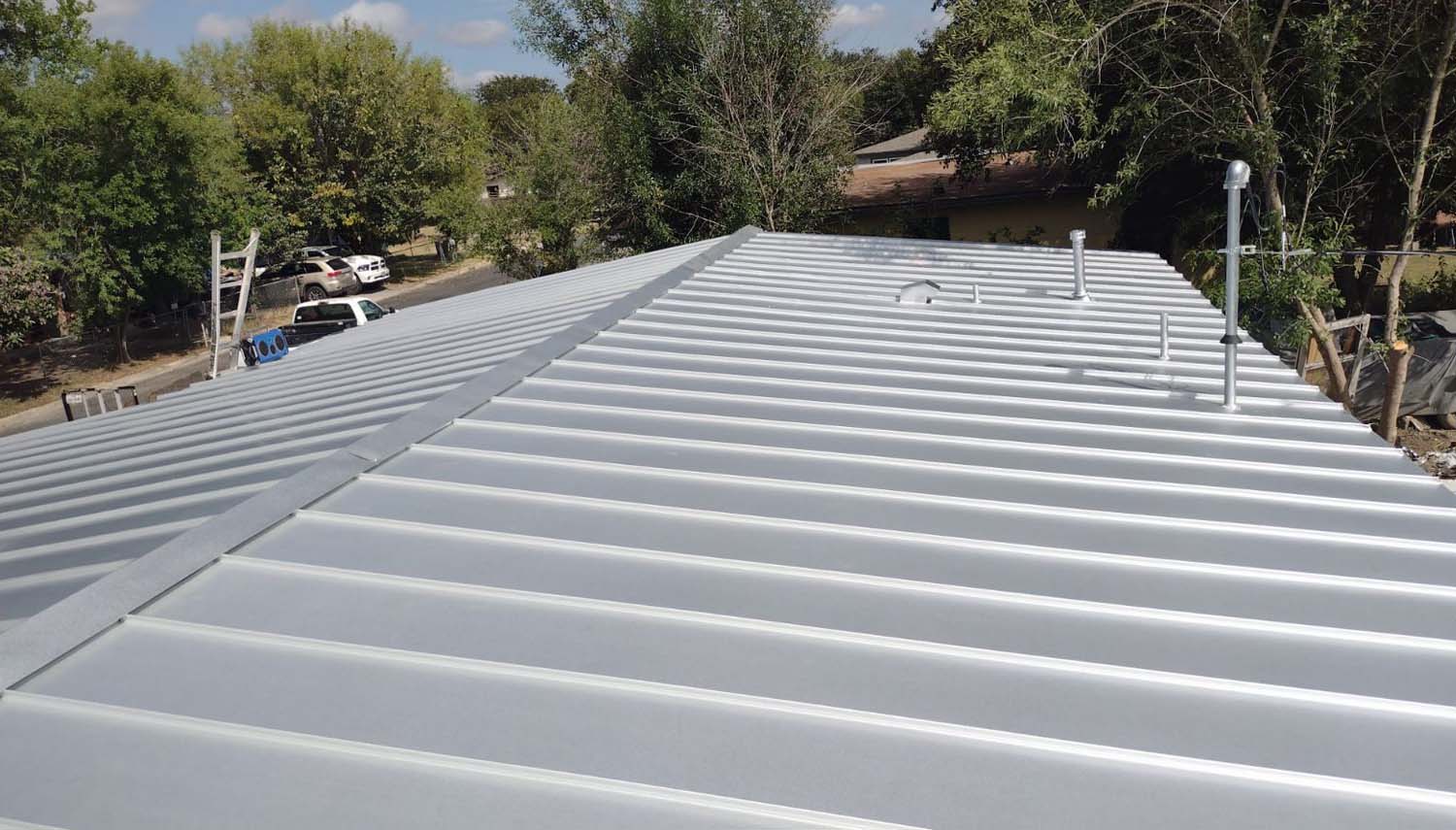 Hire an Experienced San Antonio Metal Roofing Contractor
Before you hire a contractor, make sure they have to experience putting on metal siding and roofs. Not only does this project require specific tools and skills, but it's also necessary to know what types of panels will work for your home and how much room you will need without leaving too much space between the roof and gutters.
To determine which style of metal roofing is best for your home, you need to know exactly what type of construction materials are already in place. If the decking is wood, you will want a standing seam roof or nail-down panels that attach to existing shingles. However, if your current roof is steel or concrete, an entirely new fastener system will need to be installed with interlocking panels.
When putting on a metal roof, make sure you keep the gap around vents and pipes clear for proper ventilation, especially if you live in an area where it's hot most of the year. On top of this, choose a style that won't turn out too dark since radiant heat could cause your home to warm up more than you'd like.
You also want to make sure the material is rated for high wind areas, especially if you live in an area that experiences hurricanes or tornadoes. It's always a good idea to check with your local building department before putting on a metal roof since not all of them will allow it, even though it's a cost-effective material that is built to last.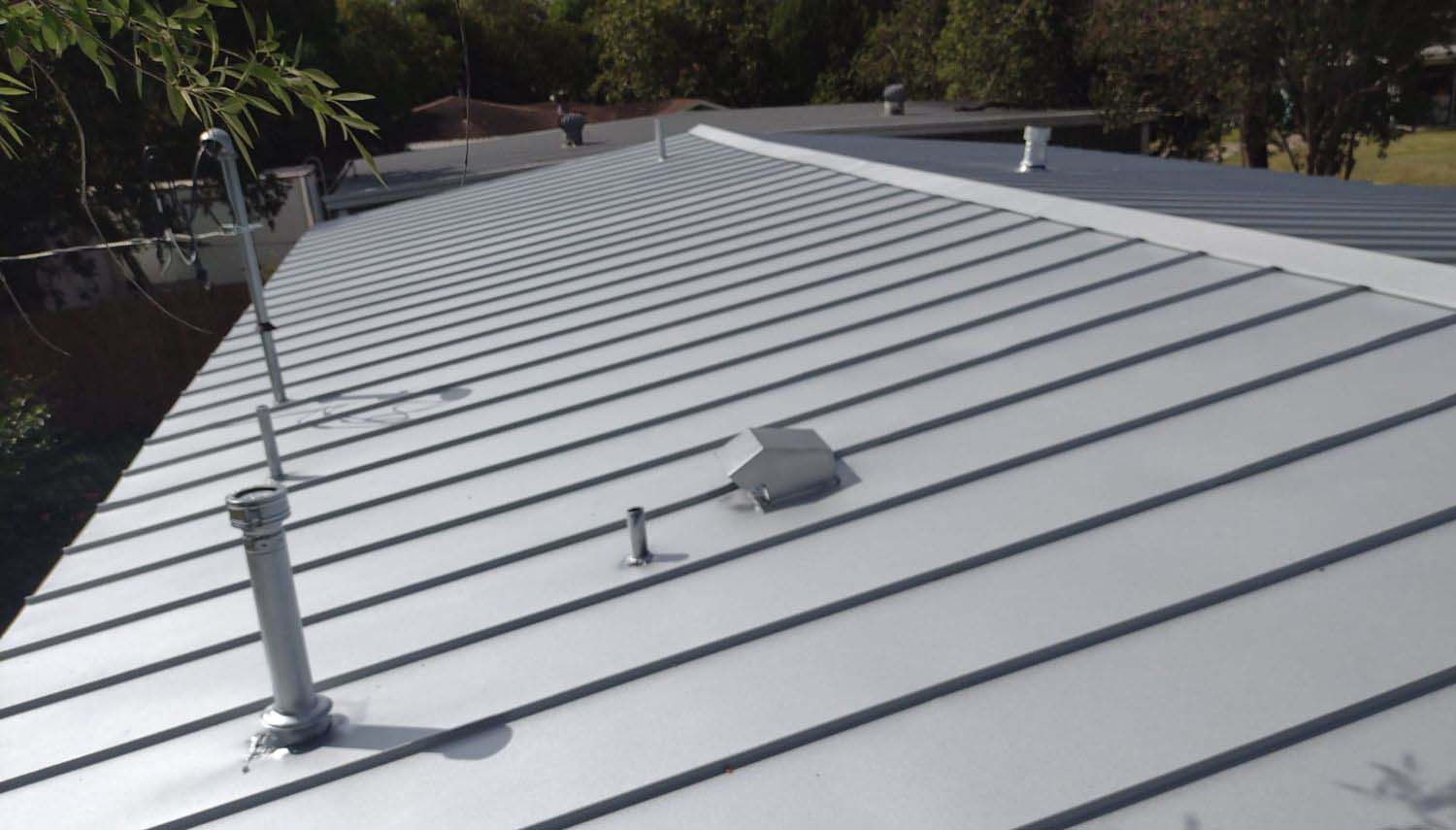 But if you keep your existing roof in good shape, then putting on metal siding is the fastest way to get rid of all of those drafts once and for all.
Not only will this improve your home value and resale value, but you'll also save money by not having to turn up the heat so much during the winter.
Metal roof installation is a do-it-yourself project that should only take a few hours at most before you have entirely new siding on your entire house. The panels are lightweight, durable, and require less maintenance than traditional clay or concrete tiles. Plus, they look great with any home style, including ranch, cape, colonial, or craftsman.
Once the project is complete, you'll be ready to enjoy your updated metal roof that will stand the test of time in every weather condition imaginable. Not only will you save money on heating bills each month, but any contractor you hire for this job will have experience with all different types of panels and installation methods for each style of home.
In conclusion, metal roof installation is a great do-it-yourself project that is easy to complete with the right tools and know-how. Not only does this improve your home's look, but it also gives you less rood maintenance than with traditional tiles and shingles.
Contact Us for Metal Roof Installation in San Antonio
Sed risus nisi, eleifend eget elementum egestas, imperdiet sed mauris. Aenean ut tristique arcu, sit amet tempus nisl. Nullam sagittis mattis ipsum, non viverra arcu. Vivamus blandit metus eu scelerisque maximus. Aenean erat lacus, eleifend quis dignissim ut, lacinia bibendum orci. Maecenas at dolor diam. Quisque convallis magna quam, at euismod lorem placerat quis. Fusce venenatis sit amet purus eu ornare. Aliquam maximus efficitur erat, vitae tempor erat scelerisque id.
Click here to read more about our metal roof installation and other contracting services that we provide here: https://skyroofingconstructiontx.com/roofing-services/
Quality workmanship done right the first time
Address
415 Balcones Heights Rd.
San Antonio, TX 78201
Email
Contact@SkyRoofingConstructiontx.com