Gutter Repair
San Antonio TX

Gutter Repair San Antonio
If you're like most people, you're not thinking about gutters. Then, something goes wrong, and you are very aware of them. That's when it's time to call a contractor. Homeowners in San Antonio trust Sky Roofing Construction & Remodeling for gutter repair in San Antonio, TX. 
Gutters are there to take the water away from your foundation. Without your gutter, your home would end up demolished. That's why you need a contractor for your gutters.
A regular maintenance plan allows your gutter to remain debris-free. That way, it works as it should. Here are a few more steps your contractor does to keep yours working throughout the years.
• Cleaning
• Repair
• Inspection
• Replacement
Your contractor looks for debris in your gutter. They clean it out, making sure the system works. You should have this done two times a year.
Some climates require this step on a bi-weekly basis. Ask your contractor for the timeline that's recommended for your system. Also, ask them about installing gutter covers to help.
Three types of repairs are important for your gutters. Your contractor knows this and will perform this for you. Each one prevents further damage.
1. Sagging
2. Leaks
3. Holes
4. Poor Pitch
5. Poor installation
When you hire a contractor, they look for these things. Sagging happens when the gutters aren't properly maintained. Debris gets in and causes sagging.
Leaks happen when the gutters are old. Sometimes, it happens when maintenance didn't happen on a regular schedule. If you're buying a home, it's important to look carefully at the gutters.
Another common issue that a contractor finds, is poor pitch designs for your gutter system. You can fix this by replacing the gutters, with the correct pitch. You'll know that you have poor pitch if your gutter holds onto water when it's stopped raining.
Another thing the contractor looks for is a gutter that is not installed properly. Other times, it's simply inadequate for a load of water. A larger gutter fixes those issues and creates a stable drainage system.
Repairing Damaged Gutters
Your contractor fixes all those things for you. When they do the inspection, they'll look for a few other things that cause problems for your gutter. Here is a list for your reference.
1. Your contractor knows that a back-flow is a recipe for a future disaster. This happens when rainwater goes behind the gutters. It normally happens when the gutters aren't properly maintained.
2. Gutters that get clogged are a common problem. It happens when they aren't maintained. Ask your contractor to fix this for your system.
3. Leaks happen everywhere. It's part of the life of your gutter. Even a good system needs regular repairs.
4. Bad sloped gutter systems cause problems as well. Your contractor looks for this issue too. Consider the design of your gutter.
5. Downspouts are something you need to have inspected. In some cases, you'll need a replacement for it to work correctly. Ask your contractor if yours needs a replacement.
All of these issues are easily fixed by a good contractor. They understand how gutters work and know the common pitfalls. Ask yours for recommendations.
Oftentimes, you'll need to ask your professional gutter repair contractor about replacement. If that happens, you'll need to know what to have them replaced with. Here are a few things to consider.
• A new gutter gives you the best protection from damage to your foundation.
• Seamless gutters look better and give less maintenance.
• Gutter guards help your gutter rid itself of debris.
• Materials make a difference.
When you have a new gutter installed, you get a fresh start at repairing the potential damage your old gutters caused. You can save your homes that would end up condemned down the road. Get the new system installed, then repair the damage.
Ask your contractor about seamless gutters. They are an excellent solution to maintain the drainage for your home. Most homes use them, because they require less maintenance, and last for years.
When you add gutter guards, your home is even better protected. Consider them, and be sure to ask your contractor about the best option for your home's drainage system. This leads to the next point.
Your professional gutter repair contractor knows the homes in your area. Ask them about which materials your home needs for your gutter. It's true that some regions of the country require specific materials for the drainage system to last.
Once you have the recommended improvements installed, your gutter will work for years to come, without problems. Then, you simply need maintenance and cleanings done. Your contractor can also tell you about gizmos to use for weekly inspections.
These steps help you repair your gutters in the most cost-effective way possible. Your home gets the best drainage system, and your foundation is better protected. Your home might even look better afterward.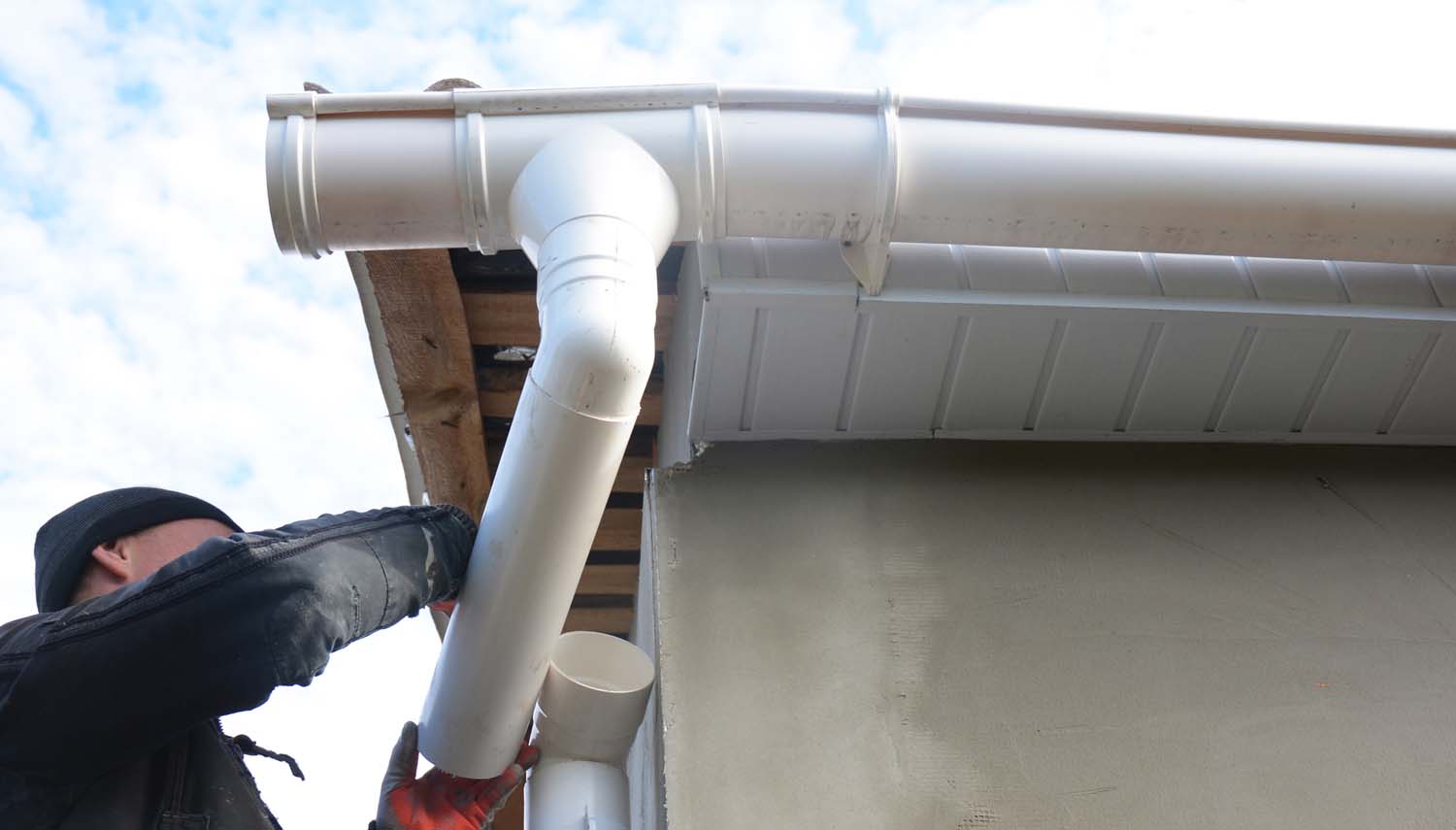 The Decision to Repair or Replace Gutters
The decision to repair or replace isn't easy. There are several factors involved with this decision. When you hire a contractor to evaluate your gutters, you can get a good estimate of what the issues are.
Once you know the costs involved with the repair versus a new gutter. Many people decide to replace the gutters because it's actually cheaper. Ask your contractor about any specials they have.
Every situation is different. Consider these things for your system. Here are some things that make it worth a repair instead of a replacement.
1. If the repair is in only a few sections, you can get away with a simple repair.
2. When there are just a few holes, you should get a simple repair done.
3. Consider if the cracks are bad enough for a replacement. Otherwise, get it repaired.
4. When a joint is leaking, ask your contractor how severe it is. Decide accordingly.
5. Copper gutters require fewer repairs. If you have one, just have the few repairs done. If it's a systemic concern, then you may need a replacement.
Ask your contractor what they think. They are helpful on your journey to a functioning gutter. Also, consider an upgrade.
If you're like some people, you might want the gutter replaced because the original system came with poor-quality materials. Ask your contractor about better materials for your system. A lot of customers find that better materials fix most of their seasonal issues.
Then, you just clean the gutters and get them inspected seasonally. This helps your foundation and prevents future damage. Some people even collect rainwater.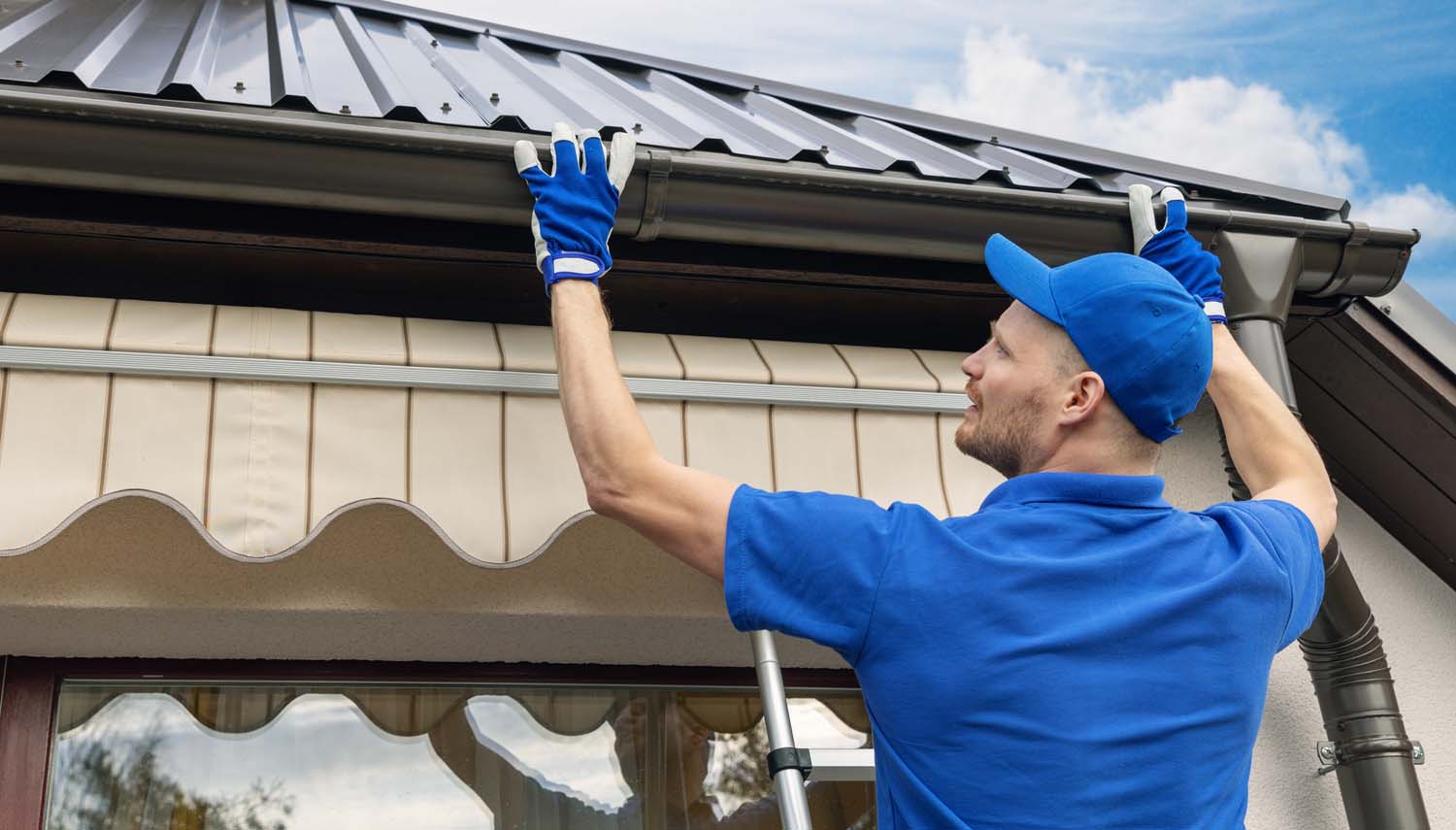 Hiring a Professional to Repair Leaky Gutters
There are several rules when you pick your gutter repair professional. Following these things gives you the chance to find the best contractor out there. It saves you money, and can even protect your home from severe damage.
• Ask for reviews before selecting your professional.
• Inspect the licenses, and make sure it's up-to-date.
• Ask about warranties.
• Check to see if they have insurance to cover issues that can happen.
• Request a signed estimate before they begin their work.
Reviews are important. Many gutter repair professionals have reviews, but those reviews are not based on actual customers. Look for reviews that include pictures of their work.
Those pictures give you a good vantage point to see the type of work they'll do for your home repair. When those pictures include people, it's even more likely that the reviews are real. Look for those.
Make sure they have an up-to-date license. Many people can do a repair, but only a licensed one offers quality work. Make sure that they have the certification to do what you need.
Warranties always come with any gutter work. Don't hire a professional that doesn't have them. It usually means that prior clients didn't like their work.
Ask about insurance too. Mistakes happen. You'll need the professional to have insurance to cover any damage that can sometimes happen during a repair.
Ensure that they offer a signed estimate. This protects your work, by providing the guarantee of that rate. Otherwise, you can end up with a bill that is way above what the estimate stated.
Then you need to ask the professional about what type of work they think you need. A good gutter contractor knows what type of repairs are normal for your type of gutter. They make solid recommendations to improve your home's drainage.
Listen to those recommendations. A professional with all of the above qualities have one goal in mind. That goal is to get your home up to date with functional gutters.
Sometimes, you'll need a whole new system. When selecting your professional, ask them if you need a new system. They'll know, and suggest a solid choice for your home and area.
Looking for the Right Contractor for Gutter Repair San Antonio?
When you do your homework, and find the perfect professional, you will end up with a gutter that handles the water efficiently. Your home will have the correct drainage, bringing you years of enjoyment of your home. Keep your home's foundation solid with a gutter repair professional.
Hiring the right gutter cleaning company involves more than a quick online search. Ask people for referrals and research what full service companies offer. Call and interview them about their experience with the roof and gutter system you have. A gutter cleaning cost should include a truck fully outfitted; extra long ladders for getting on the roof, parts (like brackets or shingles) for repair, and specialized cleaning tools. Inquire about a discount for signing on to a yearly maintenance contract.
Sky Roofing Construction and Remodeling has been serving the San Antonio area for over twenty years with excellent gutter cleaning and repair. Call (210) 942 9797.
Learn more about the gutter repair and gutter installation services that we offer for San Antonio homeowners here.
Quality workmanship done right the first time
Address
415 Balcones Heights Rd.
San Antonio, TX 78201
Email
Contact@SkyRoofingConstructiontx.com