Gutter Installation
San Antonio TX

Gutter Installation San Antonio
Today's gutter systems are more sophisticated than they were 20 years ago. There are many factors influencing the efficiency, durability and price. Getting expert advice on the right gutter choice for your home and the right team to install it, is crucial. Reputable gutter contractor Sky Construction and Remodeling is certified in gutter installation and maintenance in San Antonio, and will do the job right the first time.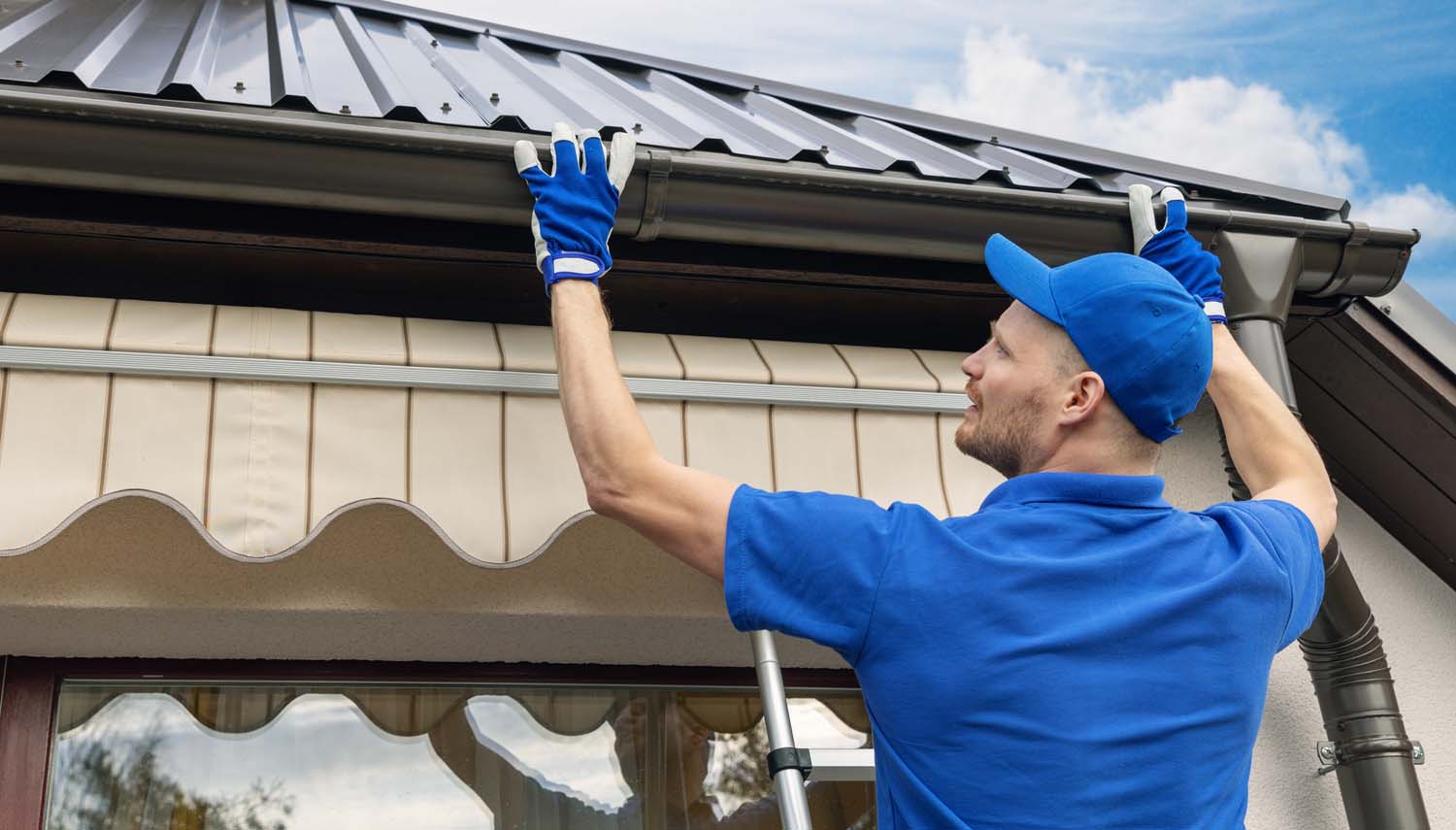 The Steps to Installing New Gutters
When shopping for new or rehabbed gutters for your home, materials matter, but expect to make a significant investment in labor costs as well. Proper installation or gutter repair requires expertise and the right equipment on site. Some of the most durable gutters are seamless. This means fabricating them for the full perimeter of your home, including shaping it to fit all of its corners, chimneys, peaks etc. while on site. This must be done with precision and an experienced team is key. 
Pieced gutter systems are also an excellent choice, and they tend to be more affordable. However, hanging and connecting sections for optimum performance and durability is an issue. Determining the proper hanging and slope necessary to catch all water from the roof, properly channel it to the downspout and safely away from the home. An experienced project manager and experienced team is important. They can guarantee to get the job done right the first time. 
However, you can't consider a new gutter system without keeping design in mind. Curb appeal is a critical component of home ownership. Everyone wants their home to look great from the street. A poor choice of gutters can ruin sight lines and spoil the look of your home. Gutters are designed to be functional, but there are also many choices out there in terms of style.
From simple aluminum channels, to fiberglass, to copper there is a gutter system to fit the age of your home, and the roof type. Price point is always a factor but, remember a gutter system should last fifteen to twenty years with proper repair and maintenance. Select a material you trust, but also one that will compliment your home and be something you feel good about every time you drive up.
The Benefits of Hiring a Professional to Install Your Gutters
While design is key, gutters are mainly about function. Keeping debris out, preventing water damage, avoiding rust or mold on the siding, these are just a few of the things experienced gutter installation contractors can prevent. Make sure, before anyone installs a new system, that there is a deliberate plan for how the gutters will handle heavy amounts of rain or melting snow. It's also critical that you use a professional gutter installation contractor who can assess the ground around the downspouts, and guarantee that rainfall will drain safely away from your foundation and basement. These are the primary things you want to ask a gutter contractor about before making your choices.
Conceptually gutters are easy to understand. In fact, gutter installation is one of those projects that the DIY folks often believe they can tackle alone. Get some channel, cut it to size, hang it, done. But, consider; can you calculate slope? Assess groundwater conditions, soil saturation? Do you understand absorption rates of various types of roofing materials? Do you know the absorption rate of the mat underneath your shingle roof? With all respect, gutter installation and repair is best left to highly experienced experts.
How long does installing a new gutter system take? The size and shape of the house determines this, as well as the size of crew. in part. Gutter systems can be torn down, and new systems put up in a single day. This is possible if you have a knowledgeable team working on a moderately sized home. Obviously larger homes take longer and the type of system matters also. Installing seamless gutters around a lot of nooks, corners, and chimney flues takes time and careful planning.
Check out how the truck is outfitted. If there are going to be specialized cuts, and customized sections fabricated, the right machinery and tools on site will speed the project up.
In the end, marry key functionality with design and choose a system that compliments the style of your home. Budget for the best gutter system you can afford, and it can least twenty years or more.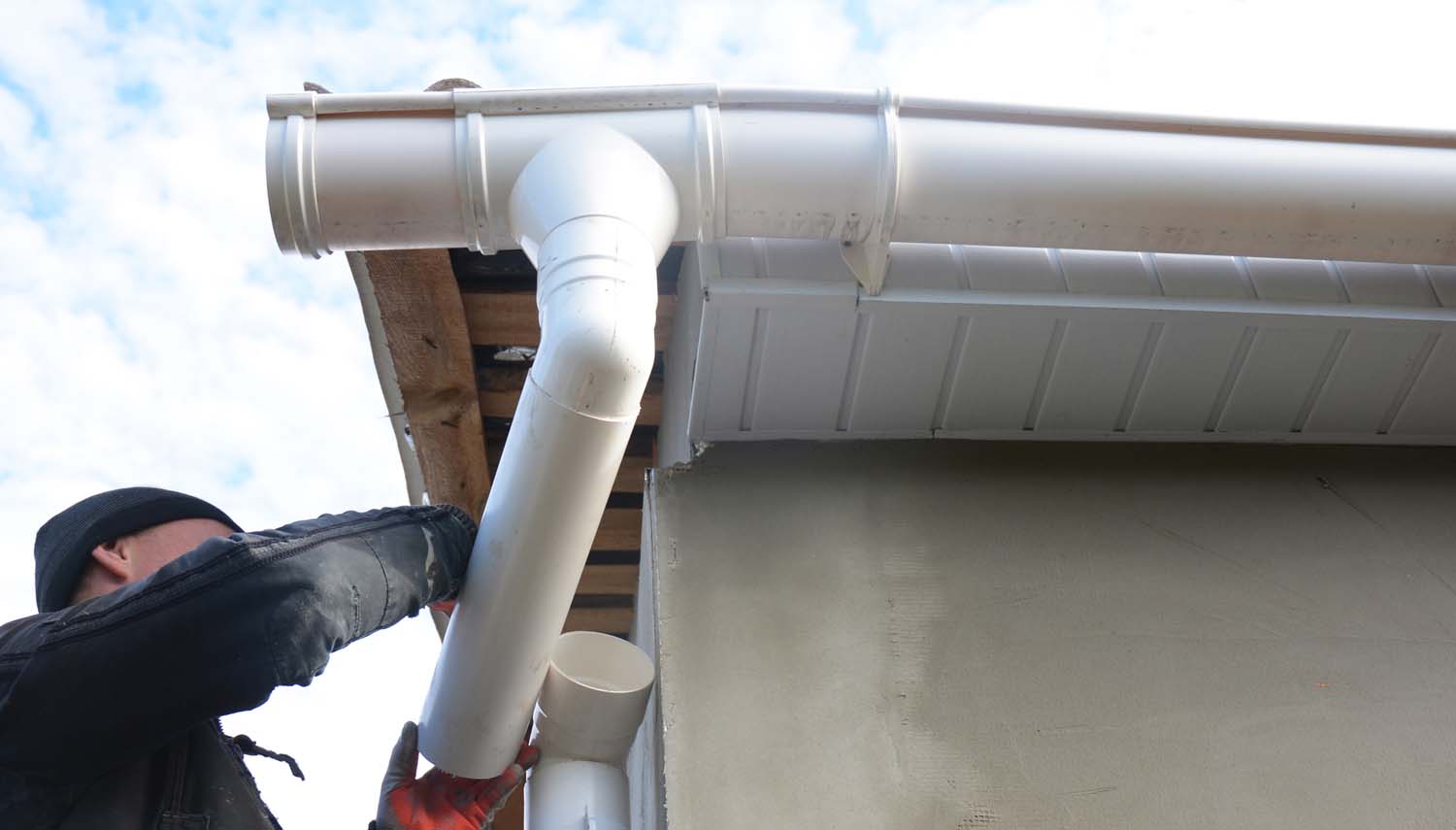 Choosing the Right Roofing Contractor for Gutter Installation
There are definite steps homeowners can take to fInd and hire the right gutter contractor. A handyman may be skilled, but chances are a guy in a truck isn't the best choice for this extensive project. Even repairs demand a thorough inspection of your entire gutter system by a professional.
Online reviews are a good place to begin your search. Just keep in mind that a local contractor, one that is around for the long haul, is always better. They are more likely to be responsive if something goes wrong later on. Keep in mind that some companies post fake reviews. If you see one word or a single sentence, it's probably a fake review purchased from a marketing company. However, when you see more of a story, lots of details, a few typos; these are real customers. When you see positive reviews from real people, you are on the right track.
A good company that does excellent work will be happy to share the contact information of previous customers, so give them a call. Another question to ask is about the number of people who will be sent to work on your project and their experience level. Labor is expensive, but so is a schedule that drags out forever or a mistake that has to be rectified.
Look for a reasonable schedule and quality materials that are priced right. Too low, and it means they are cutting corners somewhere. Too high and they are padding the job for maximum markup. This type of project costs what it costs, so look for a recommendation from someone with a similar home and ask how much. Then, expect a quote from the gutter contractor in that general price range, and ask about a guarantee that they will send enough experienced people to get the job done right.
Need Gutter Installation San Antonio?
Sky Roofing Construction & Remodeling is a respected gutter installation contractor that has been serving the San Antonio area for over twenty years. They are experienced in construction and remodeling projects of all types, and they are committed to giving clients' excellent customer service.
Sky is a licensed contracting firm, experienced in roofing, construction and remodeling. Sky has roof, gutter and siding installation specialists ready to tackle any project big or small. For the highest quality materials, workmanship and service call Sky Roofing Construction and Remodeling at (210) 942-9797.
Read more about gutter clearning, gutter installation and other services we offer here.
Quality workmanship done right the first time
Address
415 Balcones Heights Rd.
San Antonio, TX 78201
Email
Contact@SkyRoofingConstructiontx.com